I got to sleep in this morning which was amazing! When I woke up, Brett was already hard at work doing laundry. We have two giant blue buckets. One is the wash bucket and the other the rinse bucket. Brett uses the wash bucket to soak the clothes in some Downy Free & Gentle Fabric Softener. The fabric softener contains quaternary ammonium which is supposed to bind to biotoxins and remove them from the clothing. After agitating the clothes he wrings them out and plops them into the rinse bucket, swishes them around, wrings them out again, and hangs them up to dry on our broken canopy.
It's a lot of work and I felt really bad that I didn't do much to help today. I was tired and needed some down time to recover from all the exposures I ran into the last couple of days. So, I just sat and rested for most of the day. It's nice to know that I am making progress just by breathing when I'm in a good location.
The one thing I did do today was take a shower using an Arrowhead water bottle. It was rather clumsy and difficult, and the strong gusts of wind made me miss showering indoors with warm running water.
When I was looking for a spot to wash my hair, I stumbled upon the spine of an animal. The vertebrae looked pretty large to me! Maybe it was just the silly city girl in me, but it really creeped me out to think that there might be a predator big enough to kill a coyote or something. A mountain lion?
Brett reminded me that perhaps the animal died for some other reason and I decided I liked his theory much better than my mountain lion theory. Still, I was a little nervous about walking around in the dark tonight.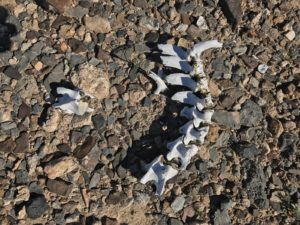 I send out a weekly digest with updates about our adventures. To receive these updates click here.